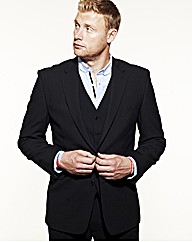 A quick ask around the Jacamo office proved that you're usually in one camp when it comes to suits – you either love them or hate them. But if you're in the first camp as a lover
of suits you'll probably get quite frustrated that you don't get enough use out of it, especially when a decent suit is often an investment, it does actually seem like a waste sometimes.
So we've put together this Guy's Guide that gives you loads of tips on how you can wear a suit casually by dressing it down and getting the most out of the money you've spent on it. Just because suits are traditionally classed as formal wear, it doesn't mean they can't be styled differently.